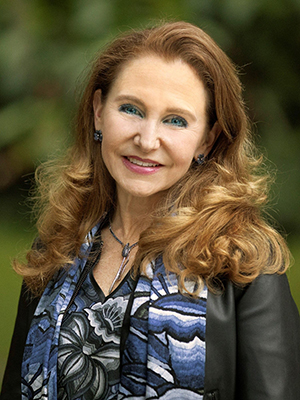 An international health economist and expert in Latin American health systems and social sectors, Felicia Marie Knaul, Ph.D., is director of the Institute for Advanced Study of the Americas and a professor at the Leonard M. Miller School of Medicine. She is also a full member of Sylvester Comprehensive Cancer Center and holds several secondary appointments. Knaul most recently served as director of the Harvard Global Equity Initiative (HGEI) and associate professor at Harvard Medical School.
Collaborating with faculty at Sylvester Comprehensive Cancer Center at the University of Miami, she contributes to research and teaching in cancer and global health as well as catalyzes the University's research presence throughout the Americas focusing on policy development.  Her research focuses on global health, cancer and breast cancer in low- and middle-income countries, women and health, health systems and reform, health financing, access to pain control and palliative care, poverty and inequity, gender equity and female labor force participation, and children in especially difficult circumstances. 
Knaul has created and designed several research and advocacy networks.  Currently, she serves as the Chair of the Lancet Commission on Gender-based Violence and Maltreatment of Young People. From 2014-2017 she served as Chair of the Lancet Commission on Global Access to Palliative Care and Pain Relief, lead authoring its October 2017 final report, "Alleviating the access abyss in palliative care and pain relief – an imperative of universal health coverage."  She has also published several papers on Mexico and health reform in The Lancet and was a member the Commission Report on Women and Health and leading co-author of its final report. As Director of HGEI, she founded and directed the Global Task Force on Expanded Access to Cancer Care and Control, serving as lead author and co-editor of the task force's publication Closing the Cancer Divide: An Equity Imperative (Harvard University Press/ Harvard Global Equity Initiative, 2012), and was a member of the Global Task Force on Radiotherapy for Cancer Control (GTFRCC), taking a leadership role in the global reports that were produced. Knaul has produced over 225 academic and policy publications.
She has held senior government posts in Mexico and Colombia and worked for bilateral and multilateral agencies including the World Health Organization, the World Bank, and UNICEF. She maintains a research base in Mexico anchored at the Mexican Health Foundation. In 2017, Knaul was inducted into the National Academy of Medicine of Mexico and awarded Level III of the Mexican National System of Researchers.
Knaul works as both a researcher and advocate on cancer globally. After she was diagnosed with breast cancer in 2007, Knaul founded the Mexican non-profit organization, Cáncer de Mama: Tómatelo a Pecho, a program that undertakes and promotes research, advocacy, awareness, and early detection initiatives for breast cancer in Latin America. Her journey is documented in her books Tómatelo a Pecho (Grupo Santillana, 2009) and Beauty without the Breast (Harvard University Press/ Harvard Global Equity Initiative, 2013), and has been featured in Reforma, The Miami Herald, The Lancet, Science, WHO Bulletin, Newsweek en Español, and Cancer Today.
She is a member of several institutional boards, including NCD Child, Casa de Esperanza, and the EAT Foundation, and various academic journals including the Lancet Global Health.
After earning her B.A. in Economics and International Development from the University of Toronto, Knaul received a M.A. and Ph.D. in Economics from Harvard University. She is a citizen of Canada and the UK and a permanent resident of Mexico.
Knaul – who is married to UM President Julio Frenk – is also keenly interested in student life on campus, and University activities. The couple, who reside at Ibis House at Smathers Four Fillies Farm, have two daughters, Hannah Sofia (23) and Mariana Havivah (14).
The family moved to Florida from Sudbury, Mass. with their dogs, Tikvot and Lupi. They also maintain a home in Cuernavaca, Mexico.